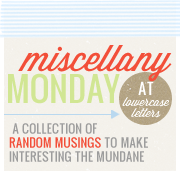 Finally! Something to participate in that makes a jumble of random thoughts okay. :) I love being random.....
1. Snow day
Or ice day. Whatever you want to call it. Zane said last night that he was really hoping we wouldn't have school today. I poo-pooed him and said that the weather channel didn't even put a percentage amount on the sleet we were supposed to get last night, so I was sure we would have school. I even put my phone on the nightstand, and when I looked at the clock and it was 6:05 I said, "Guess we're having school today." (District is supposed to make a decision by 6:00 a.m.) My supervisor called me at 6:12. Awesome.
2. Zane's grades
I don't think I mentioned it on here yet, but Zane made the honor roll. He finished out the semester with 6 A's and 2 B's. Which is exactly what his grades are right now a couple weeks into this quarter. For the rest of the year he'll be taking General Music instead of Art, because that's how they do optional ninth hour in middle school. He wasn't too thrilled about the thought of General Music at first, but he's really excited about it now because they're going to learn to play guitar for a two week period after Spring Break. He's thinking about taking Guitar as one of his electives next year. If he really likes it this spring, we may look into getting him lessons for the summer.
3. Running
I'm up to 1.25 miles on the treadmill now. Which I know that being able to run a certain distance on the treadmill doesn't always translate into being able to run that far outside because of wind, weather, etc. But before I took this up I couldn't run at all, so I'm pretty pleased. There's going to be a 5K fun run here in town on February 26th to help raise money for Reed (the little boy from Raegan's daycare with the tumor that I blogged about in
this post.
I've been saying for months now I want to finish a 5K (and wasn't able to at Thanksgiving because I got sick and it messed up my training), and I thought this would be a good way to support Reed's family and it would be really motivational for me. For anyone local, there's also a 2 mile walk, and registration is by donation, so you might consider doing it. Let me know if you want more details!
4. Organizing....
....sucks, but I sure do feel good when I have things all in their place. :)