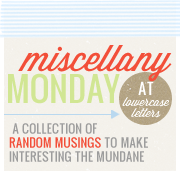 1. Saving money
I am slightly obsessed with websites that gives tips on how to save money or pay off debt, if you couldn't tell from
my last post
. Like, all of my web surfing tonight has pretty much been on
The Saved Quarter
,
Penny Pinchin' Mom
,
Money Saving Mom
. I guess it's getting me away from Facebook for awhile, which I was sorely in need of a break from.
2. Parent teacher conference week
I am doing 24 parent teacher conferences between tomorrow and Thursday. I don't think I really need to say anything more about this miscellany, now do I?
3. Snow
Just for the record, I
do not
want a snow day tomorrow, or any day this week. See #2 for my main reason why. Honestly, I'm just tired of snow. I want it to be spring. I want to wear my favorite capris and play outside with Raegan. I hope that Phil was right about spring coming earlier this year!
4. Annual review
I had my annual review at work today, and it was pretty good. I don't take compliments well, so it's weird for me to sit there and read and hear good things about myself. But it is nice to know that my hard work is noticed. :)
5. Shoes
I bought these beauties at Target last week. Aren't they fabulous?!?! They pinch my toes just a smidge, but are a lot better than high heels, but cuter than my other black shoes with no heel. This miscellany doesn't quite tie in with my desire to save money I suppose. :) Eh, I don't have to penny pinch all the time, right?